The Holidays are here! While we don't get any snow here in the dusty desert, we definitely know how to celebrate the holidays right! One of the hardest things to do is to pick what you'll actually be doing!
Here are the best things to do in Phoenix this holiday season.
CitySkate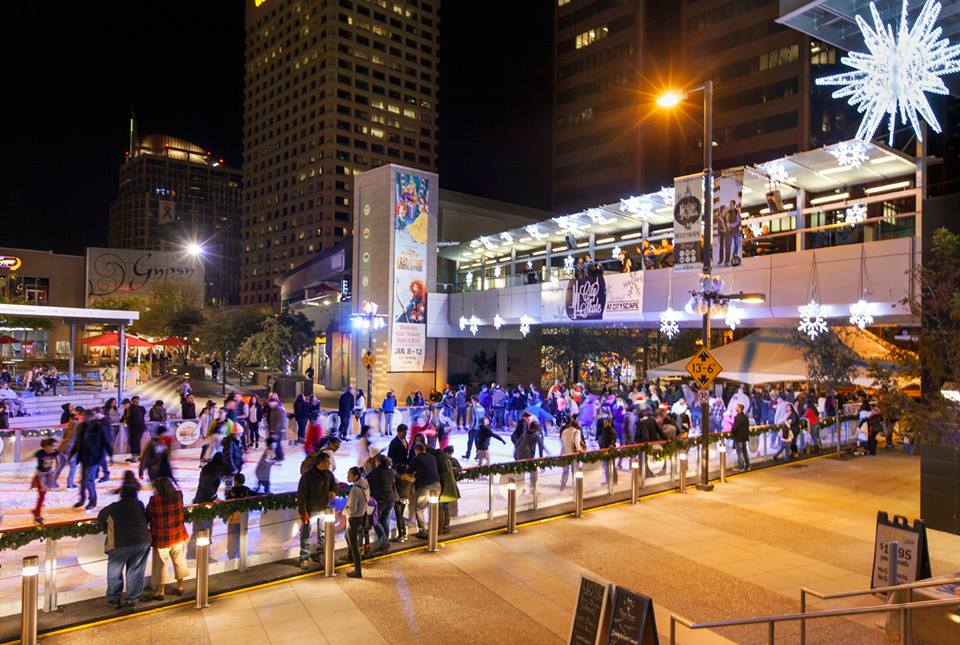 For those of you that don't know what CitySkate is, it's Phoenix's only real outdoor ice rink. CityScape is located in downtown Phoenix and hosts all sorts of events, movie screenings, CitySkate and more. This year's CitySkate is jam packed with fun things to do and events.
Read More About CitySkate in one of our latest posts!
Tumbleweed Tree Lighting
This is a somewhat unique Southwestern tradition that's happening in downtown Chandler. It starts with a parade of lights and then finishes with the lighting of the tumbleweed tree. This year will be the 60th straight year!
The actual parade and lighting will be on December 3rd but you can come stop by the Tumbleweed Tree at any time! Here's what's going on the day of the lighting:
4:30 p.m.              Event begins
4:30-4:50 p.m.     Stacy J Dancing Performs at Stage
4:30 p.m.              Santa's House Opens
5-5:20 p.m.           Arizona Dance Studio Performs at Stage
5:30-5:50 p.m.     The Dance Loft Performs at Stage
6-6:20 p.m.           Learning Foundation and Performing Arts- Warner Campus Performs at Stage
6:45 p.m.               Santa's Houes Closes
8:15 p.m.               Santa's House Re-Opens
8:40-9 p.m.           Rinsley Performs at Stage
9 p.m.                    Event ends
Zoolights
Zoolights is one of my personal favorite things to do during the holidays in Phoenix. It's perfect for date nights, going out with friends or with your family. The Phoenix Zoo has all of its animals away and decks out the park with millions of extraordinary Christmas lights, a three story high holiday tree, hundreds of light displays and lakeside music in motion shows.
They're open to the public until January 8, 2017.
Westgate Entertainment District Holiday Festivities
Westgate always puts on some pretty great stuff so it's no surprise that they pull out all the stops this holiday season. Here's what is on their agenda!
Nightly snowfall at fountain park between 7 and 8 pm.
Free visits with Santa
Nov. 22 to  Dec. 24 (except for Thanksgiving Day)
Fridays and Saturdays from noon to 8 p.m.
Sundays from noon to 6 p.m.
Select weekdays from 4 p.m. to 8 p.m.
Christmas Eve from noon to 5 p.m.
Horse-Drawn Carriage Rides absolutely Free!
Fridays and Saturdays, Nov. 25 to Dec. 24 from 5 p.m. to 9 p.m.
Rawhide's Snowy Christmas at Wild Horse Pass
The kiddos can drop off letters for Ol' Saint Nick himself and even have their photo taken with him. Stroll through Rawhide, watch the snow fall, get your shopping done & marvel at the holiday lights.
Rawhide Snowy Christmas Schedule*
FRIDAYS & SATURDAYS
6:00pm   Santa Arrival followed by Tree Lighting Ceremony
7:00pm   Snow at Rawhide
8:30pm   Snow at Rawhide
SUNDAYS
6:00pm Santa Arrival followed by Tree Lighting Ceremony
6:15pm Snow at Rawhide
7:15pm Snow at Rawhide
*Schedule subject to change.