The weather is getting colder (relatively speaking since we live in Arizona); holiday decorations are already up in retail stores, and the peppermint everything craze is already up us. What better way to enjoy yourself then by ice skating outside in the heart of Phoenix!
For those of you that don't know what CitySkate is, it's Phoenix's only real outdoor ice rink. CityScape is located in downtown Phoenix and hosts all sorts of events, movie screenings, CitySkate and more. This year's CitySkate is jam packed with fun things to do and events.

CitySkate will be opening this year on November 26th. They will be celebrating their grand opening with a welcome back party!
This year's grand opening event will be bigger and better than ever.
GRAND OPENING SCHEDULE:
3:00pm-4:00pm
Anna and Elsa live skate!
Anna, Elsa, and Olaf Photo Ops FREE
4:00pm-5:00pm
Santa Photo Ops FREE Presented by Downtown Phoenix Inc.
5:00pm-6:00pm
Downtown Phoenix Performing Arts take Center Stage
6:00pm
Official Tree Lighting Ceremony
7:00pm
Live Music on Center Stage
11pm
Ice Rink Closes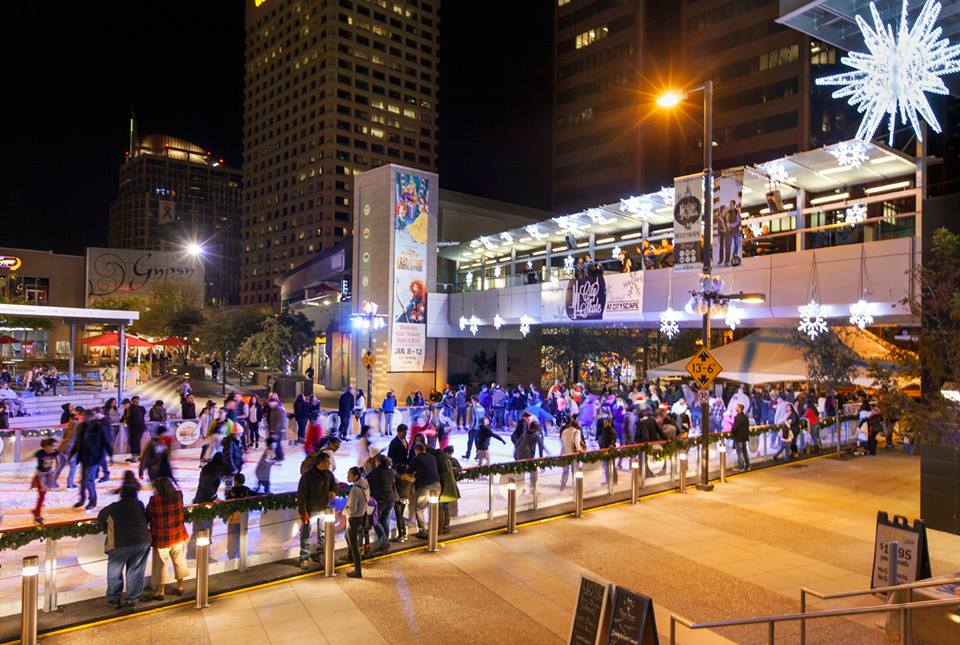 Regular Pricing
General pricing only runs you $15 and includes your skates which is a pretty sweet deal. You do have to purchase the tickets on site. There's an option to skip any lines with their express for only $25. Discounts are available for the following:
You are a member of the military
You are a senior citizen
Children 8 and under (no ID necessary)
SUNDAYS ONLY: College student
Children 3 and under: Free
Group Ticket Sales: Here
We will be posting some of the events they will be hosting on our calendar page. Stay up to date but subscribing to the website!